An article by Forbes back in 2012 cited Coding as a necessary skill of the future, as the tech industry start to progress from growth to maturity stage. The thought of having to "code" or "develop" apps seem like a daunting task to many, but have since been made much easier thanks to the growth of different user platforms, specifically low-code platforms.
What is low-coding? Our partner, OutSystems, defines low-code as a method to develop and design softwares with minimal hand-coding. This allows for a faster and more efficient way of app development and implementation. At BAYPM, we've partnered with OutSystems to develop and implement mobile and web applications for our clients, mainly due to these following reasons: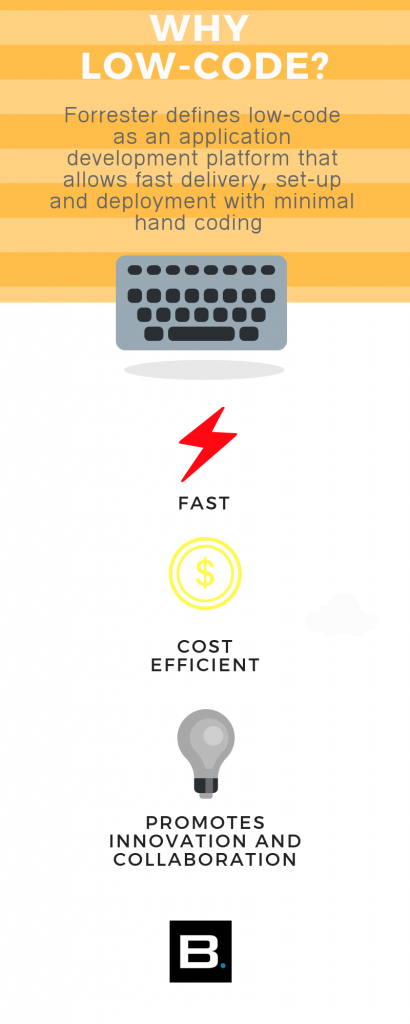 It's faster to develop and implement applications
Many of our clients may not have the digital capability or a big IT team to develop and manage applications from scratch. So, they need something that is user friendly, can be managed by people with basic knowledge of coding (i.e., HTML, CSS, etc). Focusing more on a visual design, with a drag and drop format, users can focus more on how they want the app to look like and its functions rather than worry about the nitty gritty of the back-end look. Think of how you would like to draw a picture, you need not worry about the tools (e.g., pen, paper, ink) but rather can go straight to the drawing board with all the colours and tools ready for you.
Cost efficient
Not having to build a large IT team, means that users get to maintain a lean operations, with no high overhead cost having to contract a web and app developer and pay a fee for every small change. With easy access and usability, users can make small changes easily and at a much faster rate – which means less adhoc costs and time spent on web and app development!
Promoting innovation and collaboration
Everyone has their own specialisation and capabilities, but what makes a low-code platform better to use for all is that it focuses more on the big picture. People can give their opinions and be able to see and make changes very quickly, making the decision making process much more seamless. This means? Less back-and-forth with developers and your mobile or web app goes live much faster!
What's not to love about low-coding? Not much we think.
-END-
The tips above are general guidelines based on BAYPM's experience and observations with current and former clients. We would love to help you with your Digital Transformation journey, give us a shout and we'll be sure to assist you as best as we can. Currently, we are working on a project to digitise manual processes within different locations. The client opted for an incremental implementation approach based on geographical locations, and the needs of their different factories.