Market confusion aside, it's really possible to distinguish between low-code and no-code platforms. There are literally hundreds of small details and capabilities that distinguish low-code platforms from no-code solutions. Most of these are not evident at the UI level, which is where most of the confusion between the two comes from. This blog post addresses the capabilities that separate the two so you can better understand where they can fit in your organization.

What is low-code and how to use it?
Let's start with low code. Low code is a way for developers of all skill levels to design applications with fast and minimal manual coding by dragging and dropping visual blocks of existing code into a workflow to build applications. Creating low-code software is the same as creating software any other way, and the main difference is the types of shortcuts offered. Instead of manually coding a user management system, learning the latest programming framework, or writing 10 tests before a single line of your app's code, you go straight to creating something new and valuable.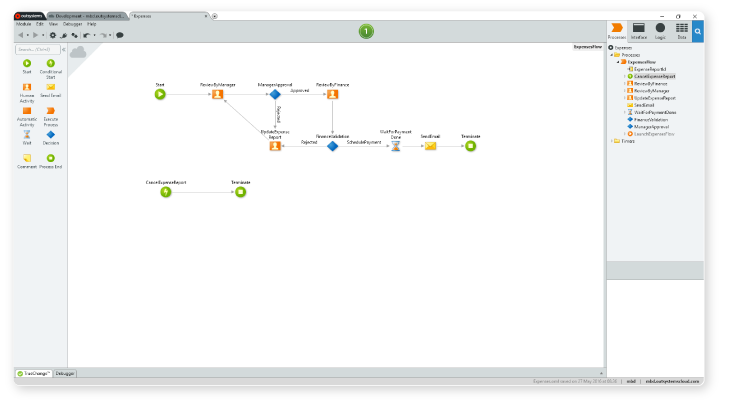 Experienced developers work smarter and faster with low code because they are not hampered by repeated coding or duplicate work. Instead, they focus on building 10 percent of an application that sets it apart, using their development experience and skills to design everything and leaving the grumble job to the low-code tool or platform.

Low-Code Advantages
There are numerous benefits to using a low-code platform. Let's take a high-level look at the biggest advantages of low-code development.
Speed: with low code, you can create applications for multiple platforms at the same time and show stakeholder working samples in days or even hours.
More resources: if you are working on a large project, no longer have to wait for developers with special skills to finish a long project, which means getting things done faster and at a lower cost.
Low risk / high return on investment: with low code, robust security processes, data integration and cross-platform support are already built-in and easily customizable – which means less risk and more time to focus on your business.
One-click deployment: with low code, one click is all it takes to send your app to production. Launch day is no longer a frustrating experience.

And What Is No-Code?
No-code solutions also feature drag and drop, visual enhancement. Unlike low code, they mostly appeal to business people or others in IT who may not know real programming languages ​​but want to develop an application for a specific use case. In other words, no code allows organizations to equip teams with the tools they need to build applications without formal development training.
Everything the no-code vendor thinks the user needs to create an application is already built into the tool. No-code solutions are similar to popular blogging platforms and e-commerce website design companies with pre-built pages that you can use to start your blog or business in a matter of minutes.

No-Code Advantages
No code is great if you need a simple app to solve a single business or department issue and you don't want to expect it to build and deliver 3-6 months from now. No-code platforms require very little training, so anyone in your organization can often create an application in the business process management area, such as expense approvals. No-code gives business users the freedom to address an urgent need without moving away from critical development projects.

Low-Code and No-Code: When To Use
Both low-code and no-code platforms are built with the same thing in mind: speed. But how do you know when to use the other? The sections on advantages and disadvantages point to the answer to this question, but let's dig a little deeper.
Low code is good for developing standalone mobile and web applications and portals that require integration with other systems and a variety of data sources. In fact, it can be used for almost anything except highly complex, mission-critical systems that integrate with multiple backend and external data sources. No-code tools, by contrast, should only be used for front-end use cases.
So, low code is probably the better option, unless you develop only the simplest apps and require little in the way of customization. Low code allows you to build user-friendly, responsive applications. While it's not as simple as without code, there is enough simplicity inherent in low code tools to run these apps much faster than if you code them manually. Since low code still requires some coding knowledge, you know that the people who create your apps will do this correctly and your new apps won't saddle you with security risks or compatibility issues.

Is it the future of low-code and no-code application development?
The short answer to this question is yes. Low-code and no-code tools play an increasingly important role in accelerating the deployment of applications. Gartner predicts that by 2023, more than 50% of medium and large businesses will adopt low-code or no-code code as one of their strategic application platforms, and low code will be responsible for more than 65% of application development by 2024.
We believe that the pressure to offer digital solutions to respond to the COVID-19 pandemic is one of the reasons for the accelerated adoption of low code and no code. Another reason is that only the biggest, wealthiest companies have access to the best technology capabilities and the most advanced development tools. No-code and low-code Tools flattens the playing field and empowers organizations of all sizes to do more with their available resources.

References:
https://www.outsystems.com/1/low-code-application-platforms-gartner/
https://www.outsystems.com/blog/posts/technical-debt/
https://www.outsystems.com/blog/posts/benefits-of-low-code-platforms/
-END-
In light of the research results, as BAYPM, we would love to help you with your Digital Transformation journey, give us a shout and we'll be sure to assist you as best as we can. Currently, we are working on a project to digitize manual processes within different locations. The client opted for an incremental implementation approach based on geographical locations and the needs of their different factories.